Healthy lifestyle choices help family battle Diabetes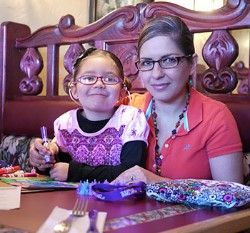 Elsa "Luna" Cejudo is dressed in pink. Her hair is drawn up in shiny side buns, and she dons red-rimmed spectacles. Quick to grin, she is a typical light-hearted six-year-old.
Her mother, Lilia Barragan, watches her with pride and a hint of worry. When Elsa was four, she was diagnosed with Type 1 diabetes, a condition in which the body does not make insulin, a hormone needed to convert sugar and starches into energy. Insulin therapy and good self-management practices can help children and adults with diabetes live long, healthy lives. Untreated, however, diabetes can lead to serious health problems.
In Lilia's native Mexico, diabetes treatment and education are scarce and typically only available to those who can pay for it. Lilia has seen people with the disease lose legs, suffer vision loss and die prematurely. News of her daughter's condition struck fear in her heart.
"I was crying and crying – I couldn't believe it," said Lilia, who worried Elsa might get very sick or even be taken away from Lilia if she couldn't care for her properly. The thought is unimaginable to Roberta Gill, dietician at the Northwest Colorado Visiting Nurse Association, who taught Lilia and Elsa about beneficial foods and eating habits and the importance of exercise for managing Elsa's diabetes.
Elsa's doctor referred Elsa and Lilia to the Northwest Colorado VNA in Steamboat Springs after Elsa was hospitalized with dangerously high blood sugar. "She did not know one thing when she began," Roberta said about Lilia. "But she devoured the education material, and was determined to make it work."
Roberta joined Lilia for trips to the grocery store to teach her how to read food labels for carbohydrate content and choose healthy snacks for Elsa to have at home and at school. She also helped Lilia change her family's diet, moving away from carb-laden meals typical of their culture, to a diet focused on healthy protein, vegetables and low sugar fruits. Lilia and Elsa have also incorporated exercise into their daily routines. Elsa ice skates, swims and rides her bike. Lilia exercises to release stress. "Now I understand exercise helps everybody," she said.
The process hasn't been easy for Lilia, who works full time at a local restaurant, but the support she has received from the Northwest Colorado VNA has helped her stay on track. "I have many people helping me," she said. "Whenever I have a question or need help I know I can call Roberta." Lilia's dedication is evidenced by a journal she keeps documenting Elsa's diet, blood sugar levels, insulin treatments and reactions to various foods. Elsa has also been learning how to take care of herself. She avoids sugary drinks and snacks and lets someone know when she feels overly tired or sick.
Armed with the tools to help Elsa manage her health, Lilia is much more optimistic about the future. "I know I'm never going to lose my daughter," she said.