Tai chi boosts balance and spirit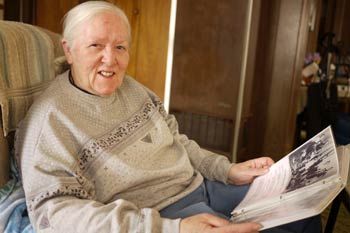 Nadine Leslie has done her share of traveling, but her heart and home will always be in Hayden, Colo., a remote town of 1,700 in the northwest corner of the state.
Nadine has spent most of her life here. She was born in the region's first hospital, built more than 85 years ago. She taught fifth and sixth grades at the local elementary school for nearly three decades. Retired, she sings in the church choir, traces her genealogy, goes on daily walks and takes tai chi classes at the Haven Community Center, just five minutes from her home.
Nadine, 66, may not be able to participate in her favorite activities were it not for the Tai Chi for Health classes offered by the Northwest Colorado Visiting Nurse Association. In 2008, she suffered a stroke that compromised her balance and ability to walk. About a year ago, she decided it was time to boost her strength, stability and stamina and looked to tai chi as the answer.
A personal visit from instructor Ron Wray, who encouraged Nadine to try the class, and camaraderie from friends and neighbors who were also interested in tai chi, made what might have been an intimidating experience, welcoming.
"When we are all doing it together, it's really neat," Nadine said.
Tai Chi for Health helps older adults safely experience the many benefits of tai chi, including better strength, flexibility and relaxation. Instructors are trained and certified through the Consortium for Older Adult Wellness organization in Denver.
The class was challenging for Nadine. She had to use two chairs for stability and sat down to rest half-way through each session. She gradually became stronger, needing only one chair to help her stay balanced. She now completes an entire class unassisted.
"I have seen a huge, huge improvement in her balance and her overall ability to move," said Annette Zuber, one of Nadine's tai chi instructors. "It's really fun to see where she is now."
Nadine takes two tai chi classes every week and practices on her own at home. She finds that remembering moves helps her mind as well as her body.
"I try to do tai chi every day," she said.
The Northwest Colorado VNA offers Tai Chi for Health and other wellness and fitness classes for older adults in five towns in the region. Classes are improving the health of many older adults like Nadine who live in isolated rural areas and have few safe exercise opportunities. Instructors live in the communities where they teach and establish warm, personal connections with participants.
"They are experienced and have the personalities to deal with all kinds of people," Nadine said.
Life can be tough in Northwest Colorado. Navigating long, bitter winters can get the best of even long-time residents. Getting out and exercising with friends brightens an older person's day while helping them remain safe and independent in their communities.