Weigh and Win is a free community program that rewards individuals for losing weight and maintaining a healthy weight.  
Weigh in

Stop by a kiosk in our Craig or Steamboat lobbies:
9 am - 5 pm, Monday through Friday

Enroll

Register at the kiosk, go to weighandwin.com or text JOIN to 303-500-1702.

Weigh in every 90 days

If your BMI > 25 you will earn money for 5 percent or more quarterly weight loss.

Keep it off

You will continue to earn money just by keeping off the weight you've lost. Everyone is eligible for monthly prize drawings!
Kiosks are available 9 am - 5 pm Monday through Friday in our lobbies at 940 Central Park Drive Suite 101 in Steamboat Springs or 745 Russell Street in Craig. Questions? Call 970-870-4118 in Craig or 970-871-7618 in Steamboat Springs. 
---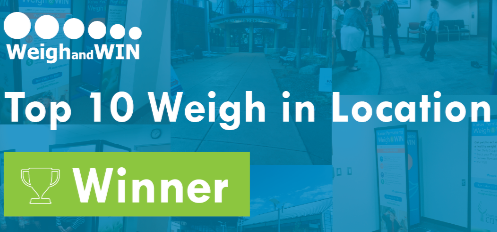 Testimonials
Tammie
Weigh in location: Craig
"The staff at my weigh in location are friendly and supportive. I feel comfortable and the weigh in area is nice and private. I have lost 25+ pounds and feel so good. I have a baby grandson and I take him for long walks in his stroller and I am so motivated to keep going and continue to eat right! Thanks for offering the Weigh and Win kiosk here. I appreciate your support!"  
Laurie
Weigh in location: Steamboat Springs
"Northwest Colorado Health offers a supportive program for healthy lifestyle change and diabetes prevention.  Along with tools from Weigh and Win, the combination of resources has helped me be successful. I have lost 33 pounds and am more aware of my eating habits.  I have increased my consistency of regular physical exercise. It has been helpful not only in my weight loss journey but for my mental health as well."